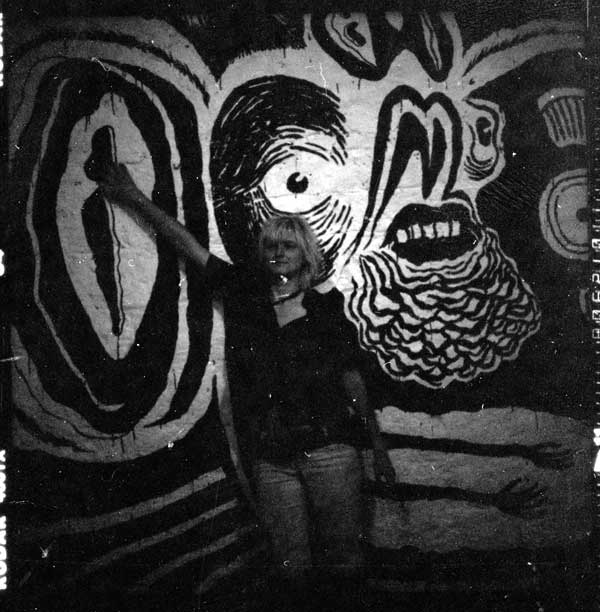 Photo by Luca Donnini
Anna Ehrlemark is a comic artist, illustrator, writer and traveling salesman on the relation Ljubljana – Belgrade – Gothenburg – Skredsvik. She paints and draws with the Croatian comic bandits KOMIKAZE and works as a designer and organizer for Kud Mreža and Menza pri Koritu in the cultural center ACC Metelkova mesto in Ljubljana. From 2012 one of the hands behind the Novo Doba festival in Belgrade and a spider in the Fijuk network of comic artists around the Adriatic sea.
She also does some other things, such as collective performance art together with swedish ÖFA-kollektivet, organizing the queer-feminist festival Red Dawns in Ljubljana and translating thoughts from slavic languages. That's probably not all.
Perhaps most known for her fanzine Very scientific article about the dicks in south-east-european underground comics, Anna Ehrlemark also wrote an essay about sex in Croatian and Serbian independent comics for the book STRIPOVI/СТРИПОВИ published in france by Turbo Comix. Her comics and illustrations have been published in AltCom (Sweden), Tribuna (Slovenia), Symposium (Serbia), Alkom'X (France), Komikaze (Croatia), Crack (Italy), Stripburger (Slovenia), Galago (Sweden), Zarez (Croatia), Beli Sladoled (Slovenia), Brand (Sweden), Balcanis (Slovenia), Slovenski klasiki (Slovenia), Independent Illustrators Slovenia (Slovenia)…